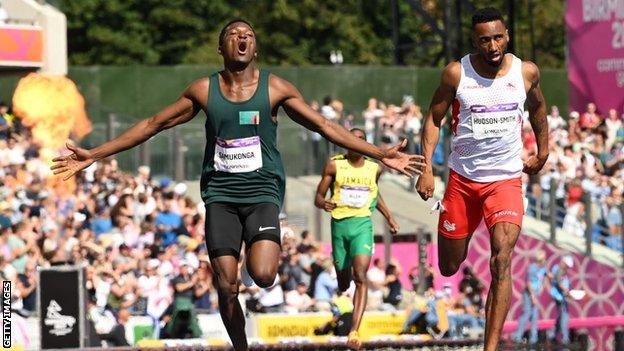 England's Matt Hudson-Smith dramatically denied the Commonwealth's gold medal, with Zambian Mozala Samukunga pulling off a 400m victory in the final set.
Hudson Smith, the world's bronze medalist, entered the home straight with a good lead, but tied with the streak.
Zambia's Samukunga did the opposite, jumping from fourth at 350 meters to claim victory.
"I got a medal, not the color I wanted," Hudson Smith said.
"I stressed the house straight up, so maybe I could have done it a little differently."
Victoria Ohurugo, sister of former world and Olympic champion Christine, took another silver for England in the women's race, and teammate Jodi Williams took the bronze.
Samukonga rise to the level to snatch the win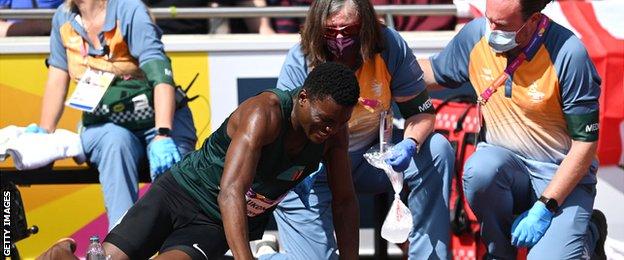 African champion Samukunga didn't break 45 seconds before arriving in Birmingham, but followed up with his personal best of 44.89 seconds in Wednesday's qualifying with a stellar performance of 44.66 in the final.
The 19-year-old's rise to a new level and a big title came at a price.
Physically exhausted, he seemed to be collapsing on the track as he went to celebrate with his countrymen in the crowd. After he was taken care of by track officials, he was moved for further treatment in a wheelchair.
Hudson Smith spent the moment immediately after the accident on the track, trying to calculate what had happened.
With Bahamian Olympic champion Stephen Gardiner, Kirani James of Grenada and Kenyan Emmanuel Courier missing from the final, he was the favorite to win in his hometown.
Hudson Smith was born in Wolverhampton and grew up on the track.
This tactic earned him a medal last month in Eugene, but seemed to cost him the gold in Birmingham.
Hudson Smith's stride was significantly shortened as he tried to finish the win, allowing Samukunga to slip into a dramatic win.
His time of 44.81 seconds was his fifth fastest this season so far.
"I'm sorry I couldn't get him home," Hudson Smith said afterwards. "But you were a great crowd, thanks to the volunteers, and it was a great experience."
More to track.