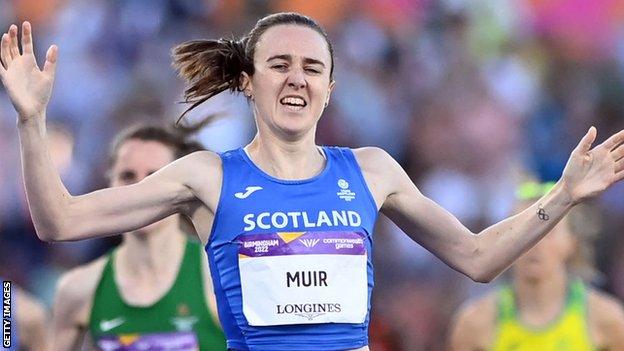 Hosts:
Birmingham
dates:
July 28 to August 8
coverage:
Watch live on BBC TV with additional streams on BBC iPlayer, Red Button, BBC Sport website and BBC Sport mobile app; Listen to BBC Radio 5 Live and Sports Extra; Live text and online clips.
Scotland's Laura Muir won the Commonwealth title for the 1500m with a grueling display that sent her rivals into the dirt in her wake.
The 29-year-old finished the pressure with the 500m to go, and despite the best efforts of Northern Ireland's Ciara Magijian, no one could live with her.
Muir finished the race in four minutes 2.76 seconds to add to her 800m bronze and win Scotland's twelfth title at the Games.
Magian took the silver, ahead of Australian Abby Caldwell.
Gemma Rickey, Muir's training partner and part-time friend and teammate, finished fifth but was the first to congratulate her teammate on her victory.
The victory seals up a wonderful 12 months for Muir.
A year and a day ago, she took the silver at the Olympics in Tokyo after a succession of podium failures in major finals.
Last month, she followed up with a bronze medal at the World Championships in Eugene.
Just yesterday, she finished third in the 800m final.
But Gold Commonwealth scratched a certain itch – Muir missed the 2018 Gold Coast to take her vet exams and finished 11th at Glasgow 2014 after being cut in the final.
"You learn from it and your time will come," she told BBC Sport.
"It sounds cheesy but it's true. Eight years out of the Commonwealth and it's been bugging me, and that means a lot."
Muir's year isn't over yet. The third climax of the epic campaign awaits in just over a week.
In Munich, she will try to defend the European title she won in Berlin four years ago.
Scotland's tally of gold medals at this Commonwealth Games now exceeds its total at every tournament, with the exception of Glasgow 2014.
Bateson wins 800m bronze to show his potential
In the 800m final that followed Muir's victory at Alexander Stadium, England's Ben Pattison emphasized his abilities by winning the bronze medal on a prestigious court.
The 20-year-old finished third with a time of 1:48.25 as Kenyan Wycliffe Kenyamal defended his title under pressure from Australian Peter Paul.
Max Burgin, another English player and the fastest man in the world this year, missed the Commonwealth and World Championships after suffering a deep vein thrombosis en route to Oregon.