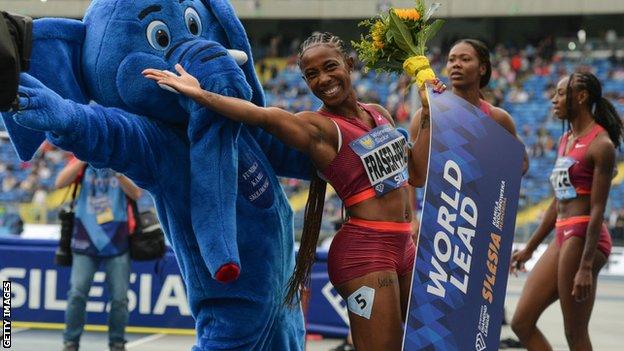 World champion Shelley-Ann Fraser-Pryce achieved the fastest women's 100m of the year, clocking 10.66 seconds to win the Diamond League in Silesia, Poland.
American Alia Hobbs came in second with a time of 10.94 seconds, while Marie-José Ta Lou from Ivory Coast took third place with a time of 11.00.
"I always go to the races and expect to run fast," said Fraser-Price.
"It's amazing to be so consistent. I'm always excited to be competitive and know what I can do."
Meanwhile, fellow Jamaican Sherica Jackson She won the 200 meters with a time of 21.84, followed by Shauna Miller Uibo of the Bahamas in second place with a time of 22.35, and American Gina Brandini in third place with a time of 22.39.
It comes after Jackson, who was also missed by the Commonwealth, became the second-fastest woman by far to win the world title at 21.45 in July.
"I don't think about the world record. I just try to do my best, if he comes, he comes," she said.
Tryphon Brommel He overcame fellow American Marvin Brassie to win the men's 100m title with a time of 9.95, while Jamaican Achim Blake finished third.
Brommel finished third behind Brassie, who finished second in the world championships.
Swedish world champion and world record holder Armand Duplantis Clear 6.10m to win the pole.